Veel jongere Akrissers zullen weleens van de naam René hebben gehoord, maar weten niet precies wie hij is. Bij de oudere Akrissers is hij nog steeds geliefd, onder andere vanwege zijn beroemde wisselsysteem. Tijd voor de Akriskras om beide groepen (opnieuw) kennis te laten maken met de oud-trainer, die zeven jaar bij ons training heeft gegeven. Van het begin tot het einde: René vertelt over zijn loopbaan bij Akris en deelt zijn geheimen van het trainersvak.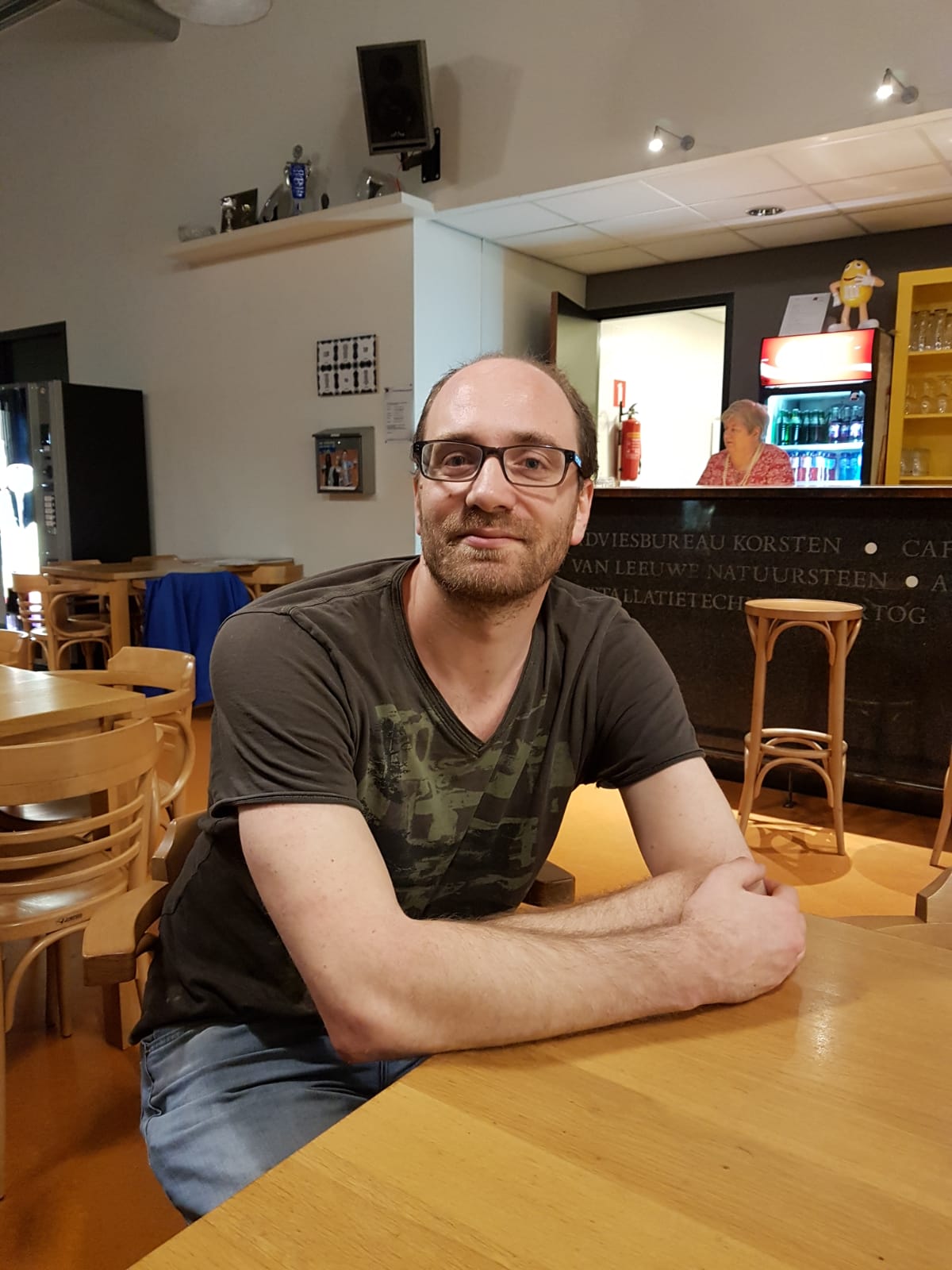 Toen René in 2009 bij Akris kwam, was onze vereniging bijna ter ziele. 'Op dat moment waren er op papier nog 20 leden, maar daarvan waren er tien die waarschijnlijk nooit een batje hadden vastgehouden. Zij waren lid geworden omdat een vriend dat vroeg – zodat de club kon zeggen dat ze nog leden hadden. Ik denk dat op dat moment er nog tien actieve leden waren', zegt René. 'Mijn eerste gedachte was: klein clubje hier.'
Een van de redenen hiervoor lag aan de situatie dat er een poosje geen goede trainer aanezig was. 'Lange tijd is er geen trainer geweest met gevoel voor de doelgroep, met gevoel voor studenten, die voor langere tijd training gaf', aldus de oud-trainer. 'Toen ben ik gevraagd door Coosje Holterman en Dave van Toor of ik bij Akris training wilde geven. Zij speelden toen tegelijkertijd bij Akris en ATC (het huidige Tafeltennis Nijmegen): bij Akris voor de gezelligheid en bij ATC voor de competitie.' Het antwoord op de vraag zal duidelijk zijn.
Na de komst van René ging de vereniging snel in de lift omhoog. Anderhalf jaar na zijn aanstelling groeide Akris naar 45 leden. 'Dat kwam deels door mij. Het helpt dat er een trainer staat die er elke week is. Dat zorgt voor herkenbaarheid. Ook was er een goede voorzitter en het was daarnaast gewoon geluk hebben. Het aantal mensen dat interesse in tafeltennis heeft was dat jaar toevallig hoog. Er kwamen veel mensen bij ons tafeltennissen die elders al getafeltennist hadden.' Het ging dus opeens erg snel en de trainingen werden goed bezocht.
De geboorte van het wisselsysteem
Het omgaan met zo'n grote groep was niet altijd even makkelijk. 'Het was hard werken', herinnert René zich de drukke trainingen. 'Je weet dat je aan technische aanwijzingen niet toekomt. Je legt de oefening uit, zorgt dat ze overal weten wat er gespeeld moet worden, maar kan niet even gaan kijken waarom er iets fout gaat.' Toch probeerde onze oud-trainer iedereen wat aandacht te geven. 'Er zijn altijd wel een paar makkelijke opmerkingen. Door de knieën, meer bewegen of mooie bal. Dat zijn aanwijzingen die je heel makkelijk kan geven. Dan laat je toch even zien dat je er bent, waardoor er beter wordt getraind.'
Ook was er een tijdlang een hulptrainer – meestal een ouder lid van Akris. Volgens René is een hulptrainer niet per se een goed idee. 'Als iemand mij assisteert die nog niet veel ervaring heeft, moet ik diegene ook begeleiden. Dat kost veel tijd, dus het directe rendement ervan was niet heel hoog.' 'En er wordt vaak voor gekozen om de ervaren trainer de beste leden te laten trainen en de hulptrainer de minder goede leden training te geven. Daar ben ik niet altijd voorstander van, want het grootste verschil maak je juist bij de mensen die minder lang spelen. Daar kan je de basis nog goed neerzetten.'
De beroemdste manier van René om met de drukte om te gaan was zijn wisselsysteem. Hij ontwikkelde dit systeem om met grote groepen om te kunnen gaan en tijdens de training weinig aandacht te hoeven geven aan het wisselen. 'Iedereen op de goede plek zetten kost drie minuten in het begin. Dat lijkt heel veel tijd, maar dat haal je er sowieso wel uit omdat je tussendoor niet hoeft te wisselen', meent René. 'Als je zelf op een training een opstelling wilt maken kost het normaal gesproken te veel tijd. Je wordt er echt diep ongelukkig van.'
'Ik had er op een gegeven moment een wiskundig systeem voor bedacht', legt René uit, waarna hij begint met het uittekenen ervan. 'Je maakt bij de warming op een lijst met namen op volgorde van sterkte', start hij zijn verhaal. 'Je begint hier… Wacht, het kan zijn dat dit niet helemaal klopt. Ik teken wel een nieuwe versie' Een tweede versie wordt getekend. 'Het kwam erop neer dat je bij drie keer wisselen twee keer tegen een sterkere, en twee keer tegen een zwakkere moest. Het mooie van het systeem is dat je het met hele grote groepen kan doen en je niet in subgroepen hoeft te onderscheiden.'
Het verhaal wordt weer door René zelf onderbroken terwijl hij naar zijn tweede versie kijkt. 'Ik zit even te kijken of ik hem heb. Wacht. Zeven of acht, dat is een duo dat ongeveer even goed is. Eehm. Ik ga dadelijk even puzzelen, en dan krijg je hem.' De versie die als afbeelding erbij staat is de derde poging, die René voor ons na het interview heeft getekend. 'Hoe dan ook, ten grondslag van het systeem ligt een soort volgorde van spelers op volgorde van goed naar slecht. In de meeste gevallen moet je tegen twee beteren en twee slechteren en elke keer schuif je een plekje naar rechts door.' Het wisselsysteem zorgde er dus voor dat René tijdens de training geen tijd meer hoefde te investeren in het wisselen, waardoor er meer aandacht kwam voor het geven van inhoudelijke tips.
Het einde bij Akris
Er werden dus veel oplossingen bedacht om te kunnen omgaan met zo'n grote groep, maar ze waren niet de gehele tijd nodig. De drukte op de training varieerde tijdens de trainerscarrière van René. Meestal waren er veertien tot achttien Akrissers op de training. Ook hielp René Akris door zijn contacten met het sportcentrum ('ik deelde de kleedkamer met Peter Gijsberts' – een van de directeuren van het sportcentrum) en deelde hij zijn kennis met de opvolgende besturen van Akris. 'Als trainer bij het sportcentrum heb je ook een ondersteunende taak. Het is dus goed af en toe gevraagd en ongevraagd wat advies te geven of wat dingen in perspectief te plaatsen.'
In 2016 gaf René aan te gaan stoppen bij het toenmalige bestuur. Zijn besluit om te stoppen had niks te maken met dat hij de trainingen niet meer leuk vond. Gevraagd waarom hij stopte antwoordt René simpelweg: 'Omdat ik een baan in Tilburg kreeg en dat lastig te combineren was met de trainingen'. Het afscheid nemen van Akris was moeilijk, 'maar het is goed dat ik geen training ben blijven geven. Het heen- en terugreizen was niet te doen geweest', verklaart hij. Voor het afscheid hadden de Akrissers een mooi boek gemaakt. 'Er staat van alles in. Foto's, herinneringen, berichtjes. Alles wat ze verzameld hadden in de tijd dat ik trainer ben geweest.'
Terugkijkend op zijn tijd bij Akris noemt René zijn belangrijkste drijfveer 'zorgen dat er fijn getraind werd in een prettige sfeer. Daar word je blij van, als je hard training hebt gegeven. En daarna in de kantine kan je gezellig doen', lacht hij. 'Ik houd wel van een biertje'.
Ook zegt de oud-trainer bij Akris geleerd te hebben te relativeren. 'Ik kreeg minder hoge verwachtingen. Ze komen als ze komen en het is maar de vraag of beter worden het belangrijkte is. Het gaat er vooral over dat de leden lekker gespeeld hebben.' Zelfs zijn eigen rol binnen Akris relativeert hij. 'Er zijn wel leden beter geworden, maar of ik daaraan in grote mate heb bijgedragen weet ik niet', zegt hij bescheiden. Hoewel de trainer presteren ook belangrijk vind, staan ze duidelijk op de tweede plek bij de gezelligheidstrainer.
René tafeltennist zelf nog steeds bij TN en laveert al enige tijd tussen de tweede en derde klasse. Hij is gestopt met zijn gewoonte bij het spelen om 'lieverd' tegen zichzelf te roepen als hij een bal mist, omdat zijn tegenstanders hem ook zo gingen noemen. Toch is hij nog steeds makkelijk te identificeren: zoek de filosoof met het biertje in zijn hand. Mocht je hem eens zien ga dan vooral het gesprek eens aan, want René weet veel over Akris, het trainerschap en – voor de kenners – filosofie.